This article appears in the June 14, 2010, issue of ESPN The Magazine. Get the full issue — the World Cup preview — by clicking here.
The boy was handed an AK-47 assault rifle and taught how to clean, load, aim and fire it. There was target practice for a while, which was fun. Almost like a video game, only louder with more recoil. Then one day, the boy was blindfolded.
"I was told not to open fire until instructed," recalls the boy, now a man. "So I waited. Finally, I was given the order. I opened fire, then I was told to stop. When they removed the blindfold, I saw that I'd killed a man. They said, 'Now you know you can shoot to kill.' They said, 'Do this or you will become dust.' I was 12, maybe 13 years old. I had no shirt and no shoes. But I had an AK-47. A lot of boys like me fought in that war."
He never knew his father, who died in the Angolan civil war that began in 1975 and lasted 26 years. He can only imagine that there are a lot of uncles and cousins he never knew either. He's a security guard now, but he doesn't want his name attached to these stories because his trust died along with his relatives, and he fears there could be repercussions for telling a foreigner of such things. "The war was all we knew for a long time," he says. "And now, it's sad; we know we were fighting and killing our brothers."
Until 2002, when the war ended, there was blood all over these streets in Luanda, Angola's capital. But on this January evening, the stream of red stands for something different. In hours, at a new soccer stadium on the city's outskirts, Angola will play Ghana in the quarterfinal of the Africa Cup of Nations. Everyone, it seems, is dressed in red, the jersey color worn by the host country. Angolan flags are everywhere: on cars, hanging from tenement windows, taped to the concrete and sheet-metal walls of the boxes that form the favelas.
For 90 minutes plus injury time, the people of Angola will stand and sing in unison, cheering for their national team, the Palancas Negras (Black Antelopes). They will get lost in the colors and the action, and will tingle inside to the chants of "An-GO-la! An-GO-la!" They will try to forget that most of their countrymen live in squalor and get by on about two dollars a day, despite Angola's oil-fueled economy. They will try to forget that a child born here is expected to live only to age 39. They will try to forget the rage of tuberculosis and HIV, and an infant mortality rate that's among the world's worst. And they will hope that this game — not so much Angola vs. Ghana, but soccer itself — can be a force to ease their problems, to help them forget about the divided past and build a united future.
Can a game really do all that? The boy who once fired an assault weapon is now a man holding a soccer ball. He drops it to his feet and begins to juggle it, at first taking little touches with both feet, then gradually lifting the ball higher. Finally, he flicks the ball over his head, ducks and catches it between the back of his neck and shoulder blades. He ducks again and rolls the ball forward, off his head and back into his hands. "To Africans," he says, "this ball, this game, it gives us hope."
This June, when South Africa becomes the first country from its continent to host the World Cup, the 32 teams in the field will basically play one of two styles: the possession game, based on short passing and ball control, or the direct game, built on long passes into open space. To play the direct game, a tactic that often works wonders for underdogs, you need speed, strength and desire. Fittingly, long balls are often called "hopeful" passes.
In many ways, the 2010 World Cup is Africa's long ball, an event that could transform a continent defined — to outsiders, anyway — by poverty, disease, violence and war. "Football on the African continent represents opportunity," says Danny Jordaan, CEO of South Africa's World Cup organizing committee. "It represents ambition, achievement. The game represents a success story."
Of course, calling soccer a game doesn't do it justice, not here. "It's more than a game," says Ghana striker Asamoah Gyan. "Football defines Africa." Think of Cameroon, and you think of Inter Milan striker Samuel Eto'o. Think of the Ivory Coast, and you think of Chelsea's Didier Drogba. Think of Ghana, and you think of Drogba's teammate, Michael Essien. They are Africa's global icons."In football, Africans have seen the downtrodden become heroes," Jordaan says. "So the game brings joy to the people, and the game brings national pride to the people."
This has been so since the mid-19th century, when British, French and Belgian colonists introduced the sport, from Casablanca to Cape Town. As the continent was subjugated, Africans took to the colonists' diversion, first watching, then playing, then playing it well. As empires dissolved in the 20th century, soccer helped bind new nations — and bring justice to others. In 1957, the first Africa Cup of Nations was held in Sudan with four teams: Sudan, Egypt, Ethiopia and South Africa. But when the South Africans refused to field a multiracial team, they were disqualified. Four years later, FIFA suspended them for the same reason; in 1976, they were expelled from the organization. It wasn't until 1992, after South Africa integrated its soccer federation, that the country was reinstated. "Football was viewed as an important part of the liberation struggle," Jordaan says. Africa's nations have come far since Zaire, now the Democratic Republic of the Congo, lost 9-0 to Yugoslavia in the 1974 World Cup (see page 54). The Africa Cup of Nations, which has been held every two years since Ethiopia served as host in 1968 and which is contested by 16 teams (based on qualification rounds), now features some of the globe's biggest stars. Many consider it the world's second-most important continental soccer competition, behind the European championship, which is played once every four years.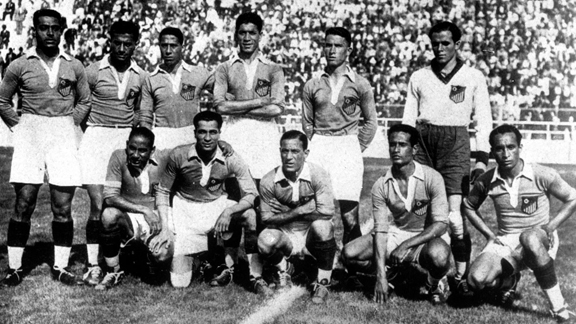 Olycom/SIPAEgypt's 1934 team was Africa's first World Cup qualifier.
And in this land of countless languages, dialects and peoples, only an event like the Africa Cup can bring together Christian and Muslim teammates, arm-in-arm, chanting, singing and praying. "There are literally hundreds of ways football can change lives in Africa," says Nick Gates, a British-born, former Harvard player. In 2006 and 2007, he traveled the continent looking for signs of what soccer meant to Africans. Inspired by the things he saw, he launched Coaches Across Continents, a nonprofit that teaches coaching in Africa as a way of developing future leaders. "In Africa, you can have an in-depth conversation with almost anyone about the game," Gates says. "I jump in and play street football with the locals. In Mozambique, where the language is Portuguese, a boy who hadn't spoken for four days cracked in a shot and turned to me and said in perfect English, 'Frank Lampard, Chelsea!' Everywhere you look, even in the poorest areas, you see football shirts of the big clubs and national teams."
Ethan Zohn has also witnessed the game's powerful reaches. Before he won Survivor: Africa, the American was a goalkeeper for Highlanders FC, the top pro team in Zimbabwe, from 2000 to 2001. One of his teammates, a 19-year-old striker, contracted AIDS and basically went into hiding before dying. "A soccer star ends up alone by himself in his apartment because he's embarrassed," Zohn recalls. "It was horrible, but it opened my eyes to a world I had no idea existed." Using his newfound fame after Survivor, Zohn started working with Tommy Clark, a young pediatrician who played college soccer at Dartmouth. Clark, who'd lived in Zimbabwe briefly as a teen, was shocked at the devastation that AIDS had wreaked on the country when he returned as a pro player in 1993. He also noticed how the young kids flocked to him, and began to think, "Why can't athletes sell health education the way they sell consumer products?" In 2002, he launched a program called Grassroots Soccer, which uses the game and African players to provide HIV and AIDS education to kids. "The game is the initial connection," Zohn says. "It's the conversation starter."
Adds Claude Le Roy, a Frenchman who's coached the national teams of Cameroon, Senegal, Democratic Republic of the Congo and Ghana: "You can't find anyone in Africa who says, 'I don't care about football.' " This is why footballers are the face of all causes in Africa, from HIV/AIDS awareness to the fight against hunger and malaria to the crusade for literacy and peace. Football for everything.
But nothing, not even the beautiful game, is a cure-all. In the past year, we've seen Egyptian fans hurling rocks at the Algerian bus days before a World Cup qualification match, and machine-gun-wielding Angolan separatists firing upon the Togo team on its way to the Cup of Nations. Perhaps most disturbing of all, agents have trafficked young African players to other continents with no regard for their welfare. "There is more talent in Africa than anywhere else in the world, even Brazil," says Patrick McCabe, a FIFA-registered agent who has represented more than 40 African players. "But the infrastructure of most African countries does not allow for the talent to be exposed, trained and exported in an efficient manner." After playing in South Africa from 1995 to 1997, McCabe became an agent to try to help facilitate the desires of some of his teammates to play in MLS after the league debuted. He ended up bringing over players from Mozambique, South Africa, Ghana, Sierra Leone, Senegal, Gambia, Togo and Botswana, among other countries. Within a short time, he was flooded with so many inquiries from aspiring pros that he had to remove his e-mail address from the FIFA website. "You can't help all of them," he says. "But you also don't want to take their dream away by telling them they won't make it, because in some cases maybe they will. It's a hard position to be in, trying to decide someone's course in life."McCabe recently arranged a trial with D.C. United for a Gambian player, who took a taxi and water ferry for eight hours before arriving in Senegal for a 3 a.m. departure. After a seven-hour flight, he arrived in Washington at 7 a.m. and was on the field by 2 p.m. He didn't make the team, but at least his shot was legit. Far too often, McCabe says, agents peddle fake or dubious opportunities. In 2000, more than a dozen African players ended up in a Belgium shelter for human trafficking after signing contracts they didn't understand. (Many of the deals channeled a large share of each player's salary to his agent.) Recently, London's Guardian uncovered that there were 500 unlicensed soccer "academies" in Accra, the capital of Ghana, outfits that in exchange for inordinate fees promised fame and fortune to boys. Promises they couldn't keep.
Still, for all the horror stories, most Africans see soccer as a game that brings out their best, that allows them to inspire. Liberian great George Weah, who in 1995 became the first African to be named FIFA World Player of the Year, is now almost as well-known for humanitarian work (he served as a U.N. Goodwill Ambassador for eight years) as for his goal scoring. Meanwhile, Drogba is credited for helping to end the civil war in Ivory Coast by insisting that the national team play an important Africa Cup qualifier in a part of the country where war tensions were thickest, a place that had long been considered too dangerous for a game. "People have an opinion of Africa, and it is not so good," Drogba says. "They see us as being behind the rest of the world. But this year gives us a chance to show a different Africa. We have to let sport unite us all."
"This is Africa," is the catch-all phrase for folks looking to do business on the continent. Sometimes it's shortened to the initials T.I.A. It means, basically, do not expect anything to go as planned. Something that normally takes an hour may take a day. Something that takes a day could take a week. Witness Angola, where dozens of cranes rise up from the horizon in Luanda, each representing a construction project — apartments, condominiums, office buildings — that's far from complete. But to host the Cup of Nations, four state-of-the-art soccer stadiums, designed and built by Chinese firms, went up in short order, Angola's testament to its African counterparts of how far it has come in the past eight years.So, what to expect this summer in South Africa? A World Cup like none before. There will be glitches, for sure. The country is far more advanced than Angola in terms of infrastructure and facilities, but nowhere near Germany, the last Cup host, which had a state-of-the-art rail system, stadiums in place and tickets that sold out fast. South Africa has struggled through labor strikes to finish stadiums on time. It's anybody's guess if those stadiums will be full, what with the high price of airfare, lodging and tickets. And yet hosting this event still means everything to South Africans. "There are moments in our history that define us," Jordaan says. "The day Nelson Mandela walked out of prison, in 1990. The day we voted for the first time, in 1994. And May 15, 2004, when it was announced that we would host the World Cup. It's that important."
But it's not just momentous for South Africa. It's a tribute to all African stars who have elevated the game worldwide. For Ghana's Abédi Pelé, who starred in France and Italy in the 1980s and 1990s, and Liberia's Weah; neither man ever got to play in a World Cup. For Cameroon's Roger Milla, who earned the African game huge respect when he scored four goals at age 38 in the 1990 World Cup, leading his country to the quarterfinal. For Papa Bouba Diop, who scored the only goal in Senegal's upset of defending champion France in 2002. And for all the players who will represent Algeria, Cameroon, Ghana, Ivory Coast, Nigeria and South Africa, this year's tournament is a chance to prove something to the world. Just a game. More than a game.
This is Africa.Jeff Bradley is a senior writer for ESPN The Magazine.